Data is a section in the Super Smash Flash series. It stores different settings between the two games.
In Super Smash Flash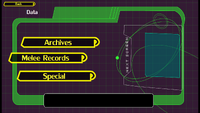 In the original Super Smash Flash, data stores all are the game's records and other information. It includes an archive section that only hosts the "How to Play" section, a playable tutorial to learn the basic techniques of the game. Another section is Melee records, which is divided in Vs. records, which sorts individual statistics for each character like number of KO's, falls, self-destructions, damage given and taken, victories, etc., and Misc. record, which includes general game statistics like power time, play time, etc. The special section has all the special massages that show up whenever a task was accomplished, like clearing a game mode, and indicates a new feature is available, like a new character.
In Super Smash Flash 2
Data in Super Smash Flash 2 is a big departure from what it included it SSF. It no longer includes the game's records and statistics but the actual save data itself. Therefore, it only includes the options to import and export data so that players, for example, can create a backup file and load it when a new version of SSF2 comes out, so that some game settings can be recovered, like custom controls or high scores. The clear data is also found here as result of that. Despite not holding any game's records at the moment, data's description in the main menu suggest it probably will.
Gallery
Screenshots
Community content is available under
CC-BY-SA
unless otherwise noted.