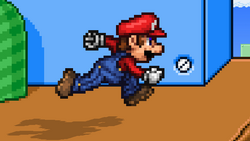 The dash, also referred to as initial dash and initial run, is the first part of a character's run, during which a character can change directions with only one frame of lag. The concept of the initial dash is vital to many forms of ground movement, such as dash-dancing, fox-trotting, and pivoting. In Super Smash Flash 2, dashing can be performed as per configured by the player; either automatically whenever the player moves left and right, when the player hits either the left or right button twice in a row, or even with its own individual key. Unlike in SSF2, in Super Smash Flash, when performed, the character immediately enters their running animation, without dashing first; dashing is inexistant in the first Super Smash Flash game.
Dash rankings
Community content is available under
CC-BY-SA
unless otherwise noted.