The Blood Sword (ブラッドソード) is a battering item hailing from the FINAL FANTASY series in Super Smash Flash 2.
Overview
The Blood Sword works similarly to other battering-type items in the game. When hitting opponents, not only are they dealt damage, but the player using the Blood Sword will be healed by a certain amount of damage, like in Vampire mode.
Origin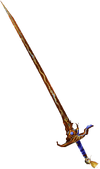 The Blood Sword is a frequently recurring sword throughout the FINAL FANTASY series, debuting in FINAL FANTASY II. In most games it appears in, using it on an enemy drains a certain amount of its HP to heal the user with. The amount of HP drained varies between different games, with many games basing this around the enemy's current HP and others basing it around the damage dealt by the weapon.
The design of the Blood Sword in SSF2 is based most closely on its design in DISSIDIA FINAL FANTASY.
Gallery
Screenshots