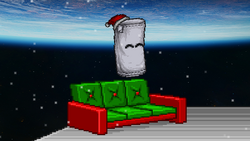 Background characters are minor characters in the Super Smash Flash series that make cameo appearances in their corresponding home stages, normally without interfering in the battles. As such, background characters should not be confused with stage hazards.
With the severely limited stage selection of Super Smash Flash, the game only had one background character in its eight stages, but Super Smash Flash 2 includes many background characters in its large and growing list of stages.
In Super Smash Flash
In Super Smash Flash 2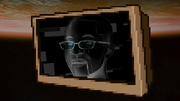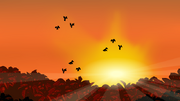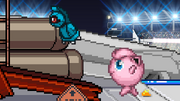 Magnemite and Beldum can be seen in the background during the Steel transformation of Pokémon Colosseum.

Dewpider

and

Kakuna

can be seen in the background of the Bug transformation.
Butterfree and Moltres can occasionally be seen flying across Saffron City in the background.
Giygas appears all throughout the foreground and background of Devil's Machine, moving endlessly across the stage.
A sleeping Red Bulborb lies in the back of Distant Planet. A Cloaking Burrow-nit can also be seen left to the Red Bublorb, but far behind it.
Captain Viridian is seen on Nintendo 3DS stage's screen during the VVVVVV game, changing the stage's gravity.
The Eggrobo can be spotted flying on Sky Sanctuary Zone's background from one side to the other.
In Chaos Shrine, a huge flock of bats are seen flying in the upper part of the stage. The four fiends — Tiamat, the Kraken, the Lich, and Marilith — float by in the background. They do not move at all other than scrolling from side to side.
Fairy Glade has multiple background characters.

Globox stands next to the bouncy mushroom and simply watches the fight.

Popolopoïs

fly around the stage and rest on the giant tree.
Small mushrooms stack on top of each other, helicopter bombs fly from one side of the stage to the other, and a warship flies off in the distance.

Vegeta IV, Trunks, and Son Gohan fly across Planet Namek from right to left at high speed.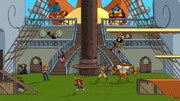 On Thousand Sunny, members of the Straw Hat Pirate Crew can be seen in the background. Except for Zoro, they all cheer upon a KO being scored.
Hidden Leaf Village has multiple background characters.
See also