The All-Star Rest Area (オールスター休憩所) is a special stage used to warp between battles in All-Star in the Super Smash Flash series. It is based on the recurring stage of the same name in the Super Smash Bros. series that serves the same purpose.
In Super Smash Flash
In the original Super Smash Flash, the stage consists of a single platform with a cave mouth at the center. The sprites are the same as those used for the top platform in Floating Islands. There are also three Heart Containers on the left, and upon using one, it will not return for the remainder of the mode. Upon entering the cave in the center, the player will be transported to the next battle, but if the player enters while healing then the healing will stop and the next battle will start. Players can also fall off the stage and self-destruct without losing a stock, but their damage is kept upon reappearing.
Music
The music track is the self-titled All-Star Rest Area, a soft piano remix of the Save Area theme from Kirby Super Star, taken directly from Super Smash Bros. Melee.
In Super Smash Flash 2
In the reboot, Super Smash Flash 2, the stage consists of a mostly flat hard platform with a slope at its leftmost portion. There exist three platforms in the right side of the stage, each normally containing healing items. The healing items are decided by the difficulty chosen by the player — Energy Tanks at Easy, Heart Containers at Normal, Maxim Tomatoes at Hard, and mere food at Insane difficulty — and are shared among the soft platforms. There is a teleporter at the center of the stage, which transports the player to the next battle upon being stepped on. Like in Super Smash Flash, activating the teleporter while healing will cause the player to abruptly stop healing. Players are also unable to self-destruct, as there are walls and ceilings where the camera ends.
Music
There are four different music tracks that interchangeably play in a specific order whenever the player clears a match in All-Star and returns to the All-Star Rest Area. The music tracks are the following:
Origin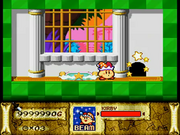 As mentioned, the All-Star Rest Area is based on the stage of the same name in Super Smash Bros. Melee, which serves the same purpose in its own All-Star mode. The concept of a resting area between fights with optional healing items comes from Kirby Super Star, with both The Great Cave Offensive and The Arena sub-games as possible inspirations.
Gallery
Super Smash Flash
Super Smash Flash 2
Community content is available under
CC-BY-SA
unless otherwise noted.