A Super Mario World Episode 3

Title card of Episode 3.
Directed by
Gregory McLeod
Produced by
Gregory McLeod
Written by
Gregory McLeod
Production company
Cleod9 Flash Animation
Distributed by
McLeodGaming
Release date
March 26, 2006
Animation
Flash
Running time
3:30 minutes
Rating
T for teen
Language
English
The Final Battle is the third and final episode of the flash animated series A Super Mario World. It was released on March 26, 2006.
Plot summary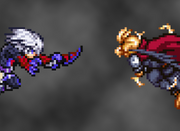 The fierce battle between Cloud and Riku continues. Cloud taunts Riku, telling him he should give up the fight, but Riku does not listen and charges with dark orb of energy to finish off Cloud. He blows up the "Bowser-Eggman Cruiser", which begins falling toward the ground in the direction toward Mario, who starts running for his life. The force of the explosion sends Cloud flying, slamming through numerous hills until he crashes with a huge trunk. Cloud quickly recovers and engages for battle once more. Riku reaches him and both fighters stand for one final blow. Both jump and deal a fatal blow to each other. Cloud at first stumbles on his knees and appears to be defeated. However, Riku starts bleeding for a moment and crumbles into pieces, dead. Being the victor, the short ends with Cloud standing up and jumping out of the scene as it fades away.
During the credits roll: Mario is seen still desperately running away from the falling Cruiser, but the scene is cut and leaves his fate uncertain. Luigi and Princess Peach are seen together, being followed by several small Luigis (indicating both had an affair while Mario was away and got "children"); Cloud is seen standing on a hill watching at the horizon; and Link is seen fighting numerous enemies from Bowser's troops.
Characters
Song list
Reception
Overall reviews for the episode in Newgrounds were mixed. It is the least critically received out of all the three episodes. Criticism was found on the length of the episode, which lasts less than the half of the other two previous episodes, as well as the complete change of protagonism focus from Mario and Link to simply Cloud and Riku. Users praised the sole action scene but still complained that it was way too short.
Trivia
With a running time of 3:30 minutes, this is the shortest episode of the series.
This is the only episode that did not make use of the regular logo used the previous episodes.
See also
External links
Community content is available under
CC-BY-SA
unless otherwise noted.