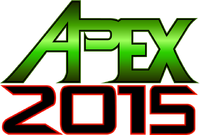 APEX 2015 was a tournament event held from January 30 to February 1, 2015 at Secaucus, New Jersey, United States. It was the sixth iteration of the APEX tournament series, one of the biggest competitive gaming events in North America. For the third consecutive year, McLeodGaming attended the event with an exclusive booth to showcase the new and final version of the demo: Super Smash Flash 2 Beta.
McLeodGaming at APEX 2015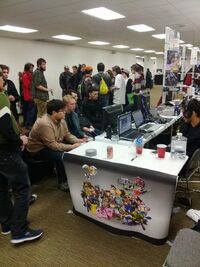 On December 20, 2014, SSF2 developer, James TSON Hadden made a post in the McLeodGaming Forums, officially confirming McLeodGaming's presence at APEX 2015.[1] Alongside this announcement, a brief teaser for the game was released as well.[2] On January 23, 2015, TSON made another announcement confirming a second McLeodGaming Direct to be streamed on January 25, 2015, which included a sneak peek of the game and what to expect at APEX 2015.[3] The second Direct was presented by developer Max Void Silverman. In the Direct, the next version of the demo was officially named SSF2 Beta and formally invited users that could not assist at APEX 2015 to watch live streams for the game on McLeodGaming's Twitch account.
The booth was once again served by SSF2 director Gregory Cleod9 McLeod. During the event's third day, Mr. Game & Watch was officially revealed to be a playable character. As is usual for developers at this event, Mr. Game & Watch was actually "leaked" by one of the game's posters before his formal reveal but none of the attendants were able to discover him, even after MG directly hinted the new character was hiding in the game's poster on its MG's Facebook account.[4] After revealing Mr. Game & Watch, MG revealed where he was hidden in the poster: on the left side, next to Lloyd in a "front viewing" position. Due to being a flat character, this resulting in him being a discreet black, straight line visible only by taking a closer look at the poster.[5]
Videos
See also
References
External link