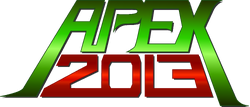 APEX 2013 was a tournament event held from January 11–13, 2013 at Rutgers University in New Brunswick, New Jersey, United States. Founded by Jonathan Alex Strife Lugo, it was the fourth iteration of the APEX tournament series which has attracted worldwide attention from notable Super Smash Bros. players, among other games. APEX 2013 was also notable for being the first APEX event to hold support for non-profit, indie developer companies, including McLeodGaming.
McLeodGaming at APEX 2013
On September 4, 2012, it was revealed via a live stream McLeodGaming would be attending APEX 2013, to first showcase the Super Smash Flash 2 Demo v0.9a for attendants to play it first before its public release, with live streamings serving the 3 days on McLeodGaming's Twitch account,[1] for people who could not assist to the event.[2] The event was intended to release the demo at the final day of APEX 2013, however, complications with the upload due to an incredibly high surge of traffic considerably delayed the upload to the next day. Though several features were added each day on the demo, the flyer made for the event, in fact, leaked Bomberman, Zelda, and Sheik's inclusion to APEX's attendants before they were actually made playable in the demo.
The McLeodGaming booth was served by Gregory McLeod, head developer and director of Super Smash Flash 2, accompanied by fellow developers: Alex Tid Knowles, Ramsey Dr. Geno Kaid, Chris ElvisDitto Hubac, Max Void Silverman, among others. Several raffles were hosted and among the gifts given, the most notable was a Nintendo GameCube white controller with McLeodGaming's logo stamped on it and signed by the presented SSF2 Developers.[3]
Flyer
Videos
See also
References
↑ http://es-es.twitch.tv/mcleodgaming Accessed February 25, 2013
↑ http://forums.mcleodgaming.com/viewtopic.php?f=3&t=34969 Accessed February 25, 2013
↑ http://forums.mcleodgaming.com/viewtopic.php?f=3&t=35715 Accessed February 25, 2013
External link
Community content is available under
CC-BY-SA
unless otherwise noted.