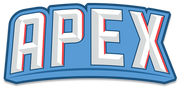 APEX is an annual tournament series for fighting games held in New Jersey, United States. Founded in 2009 by former tournament director Jonathan Alex Strife Lugo, it was one of the biggest tournament events at national level and has attracted the attention of players from all around the world. The tournament specifically focuses on the Super Smash Bros. games, and it also hosts side events for other fighting games such as Street Fighter, Marvel vs. Capcom, Tekken, and Mortal Kombat, as well as Pokémon battle tournaments.
Following a major lack of attendance in 2016, APEX is no longer considered a major tournament series, and it has not hosted a tournament since 2016.
McLeodGaming at APEX
Beginning with APEX 2013, support for non-profit, indie developer companies was started. McLeodGaming was among the developers that was invited to the event to present the newest version, v0.9, of its fan game based on the SSB games called Super Smash Flash 2, which was presented in the format of a demo for attendants to play it before its public release, with live streams of gameplay on McLeodGaming's Twitch account so people who could not attend the event could have a sneak peak of the new version. Raffles and prize-giving events were also hosted at the MG booth. McLeodGaming returned at APEX 2014 to showcase SSF2 demo v0.9b. The company returned again at APEX 2015, this time to showcase the final playable demo version of SSF2, Beta.
Following a change of management and the removal of Alex Strife from the APEX team in 2015, APEX 2016's date was moved forward to June 2016, which resulted in schedule conflicts with the SSF2 developers' daily lives. Due to this, it was decided McLeodGaming would not be attending at APEX 2016, and it instead would focus on attending Super Smash Con 2016 later in the year. McLeodGaming has since not expressed interest in returning to APEX.
Gallery
External link